I am a qualified ITCCA Tai Chi Chuan teacher of the original Yang Style since 2004. (ITCCA: International Tai Chi Chuan Association.) 
My knowledge encompasses Tai Chi Chuan & Qi Gong, as well as Taoist relaxation exercises, somatic awareness meditation, Tao self (Qi) massage, Yin Yoga, and knowledge of the  5-elements (TCM) system and YinYang philosophy. This combined with my paramedic profession as a Kinetic Therapist (Mensendieck: specialist in posture and movement patterns) gives me a broad knowledge in the field of body and mind.. Which I trully love to share….
    ….if I believe in anything, it is that the body is so much wiser than the mind 
(or at least how we use it)…….
Tai Chi Chuan, Qi Gong, Yin Yoga and Dao Yin are based on Taoism philosophy and Traditional Chinese Medicine (TCM).
Tai Chi Chuan
And Meditation – Qi Gong – Taoisti (Qi) self massage, Pushing Hands, Fighting Form, Broad Sword, Sword. When you learn Tai Chi Chuan, you learn all these as well.
All teachers follow a curriculum created by Master Chu King Hung (the leader of the ITCCA) and take private lessons with him annually. Only then do the teachers obtain his permission to teach. I have permission to teach the Original Yang style Tai Chi Chuan Form, the immersive Steps, Fighting Form, Pushing Hands and Sword Form.

Besides

attending private classes with Master Chu each year, I take intensive courses and take part in retreats organised both by Master Chu and Andreas Heyden (disciple of Master Chu, ITCCA Köln). This training regimen continues to deepen my experience of and feeling for Tai Chi Chuan and Qi Gong, so that I may pass these on to my students.
Qi Gong
next to my ITCCA style, I have experience in several other Qi Gong-forms of which the 5 Element Qi Gong – which again have several styles such as sitting or standing – is my favourite.
Yin Yoga
Yin Yoga teacher training – Chinese medicine, Meridian Nidra, Hip Anaotmy – Jo Phee
Yin Fascial Yoga, myofascia release, 5-elementen Qi Gong – Beta Lisboa & Sai Calder
(partly) Yin Yoga teacher training – Miriam Wagner
Myofascia Release & Yin Yoga – Esther Scheen
Adjusting Yin poses workshop – Jose de Groot
5-Element Dao Yin Sai Calder
Qualified Kinetic Therapist Mensendieck: specialist in posture and movement patterns
And of course during my
lifespan I have followed more than one courses related to body and mind, i.e. Dharma Ocean, Anatomy Trains, Relaxing Massage, Gua Sha, and so on….. and the road is still unfolding.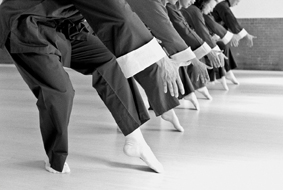 In depth Tai Chi Chuan training
ITCCA Hungary
International Tai Chi Chuan Association
Tai Chi Chuan